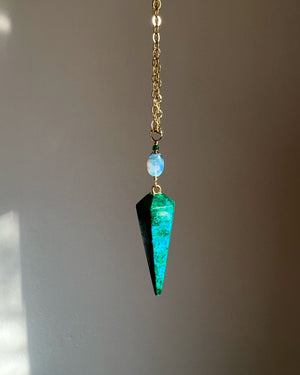 The Earth Speaks
Sale price Price $222.00 Regular price
The main theme of Chrysocolla is that of COMMUNICATION. 
The essence of the stone is Mother Earth speaking to and through us. 
A reminder that we are walking upon a living, breathing, massive, floating, articulating rock in space that expresses itself in direct lines to our Hearts. When we converse with all living beings and one another with more open hearts, our experience can completely shift and we can see the gifts that eventually emanate from every challenging circumstance.
So many of the things we were conditioned to believe are being flipped upside down right now. The best way to integrate these alterations, in the world of Chrysocolla, is to take a walk in nature, bare feet on the ground, and absorb the teachings into your physical being. 
A Stone of the Goddess, the Elder, Wise Women globally. A stone that wakes us up to what the true feeling of beauty is, which does not come packaged in the way we have been sold it. 
A piece to remind us that the Earth is speaking to us, always and in all ways. 
Now is the time to listen. 
What do you hear? 
LIMITED EDITION
Paired with Lightning Ridge Opal from Australia. These Opals are becoming more and more rare. This is the only batch we found of them this year at the Gem Show
We will most likely not be able to replace your piece if you crack it, so please handle with loads of care and love. 
A range of metals for you to choose from
Length: 28" (adjustable)