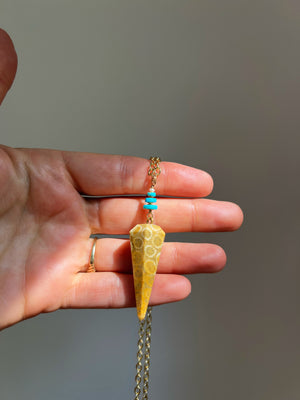 Root to Shift
Sale price Price $150.00 Regular price
Fossil Coral is ancient history etched in stone. A memory of what once was that no longer is. 
A stone of grounded rooted connection so that we may hold ourselves firmly in our knowningness WHILE we make radical changes and shift the trajectory of our lives for the better. 
A talisman for dedicating the self to the shifts that are ready to take place, within and without. 
Made with a tiered tower of Turquoise to add the water element to this grounded soul stone.
Gold/Brass
Length: 28" 
ONE OF A KIND